Notary Agents Available Now
Legally Notarize any Document Online in 5 Minutes
Connect to a Commissioned Notary Agent via your web browser and instantly download your notarized documents. We're Accepted in all 50 States!
Upload Your Documents for Notarization
Add Additional Signers/Witnesses (if needed)
Verify Identity and Take a Picture of Your ID/Drivers License
Connect to Your Notary Agent and Digitally Sign Your Document
Pay After We Notarize and Download Your Documents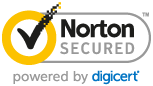 Requirements
Smart-phone or Laptop with a Webcam. Any US State Driver's License or ID. Last 4 of Your SSN (for Identity Verification)

































Customer Reviews
People Love OnlineNotary.net. Here are some of our customer reviews
Platform Features
We have a state-of-the-art platform, and some unique features
Business Notary Services
If your business needs documents notarized on a regular basis internally or for your clients, we are a perfect solution for you. We can help you expedite your current process.
Bank Grade Security
Our platform was built by prioritizing the safety and security of our customers. Any information that you provide to us is fully encrypted throughout the remote online notary process.
Experienced Agents
Our experienced and insured notary agents are committed to industry best practices. Our internal training team ensures we are always acting in line with current US federal and state notarization laws.
Independent Verification
After your documents are notarized, your document recipient can verify the validity of the notary process directly from our website without any hassle
Print or Email your Documents
Our notarized documents can be printed or emailed to your receiving parties within a matter of minutes. Each notarized document can also be independently verified.
Excellent Support
Our platform was custom-built from the ground up with you in mind. Our agents are available to assist you at any point through online chat.
Our Technology is changing
the Notary Process. Forever.
Lights. Camera. Notarizations!
Connect to us from anywhere in the world to access our remote online notary services. All you need is a valid US ID and a device with a camera.
Accepted in all 50 States
Our Notarized Documents are accepted in all 50 US States and abroad. Get started now to validate your identity and begin using our services.
Save Time & Money
We're fast. The average transaction on our platform takes 5 Minutes, and costs less than other mobile notaries.
Help Your Business Grow
If your business is slowing down because of lengthy and archaic notary processes, our remote online notary is the right fit for you. Come talk to us.
How it works?
Here's how we help you to notarize your documents online.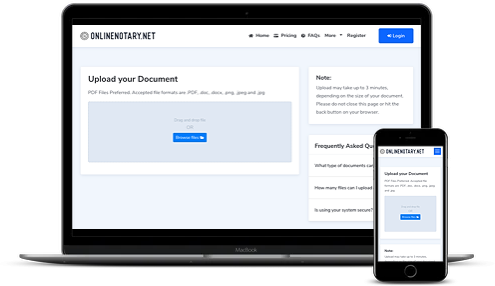 Upload Your Documents & Verify Your Identity
Upload your documents that need to be notarized into our secure and encrypted platform. We accept over 200 document types. Verify your identity with our proven and safe process. All you need is a valid US ID (passport, Drivers License and/or State ID) during the Notary process.
Connect to our Notary Agent
Once your identity is verified, you will connect to our notary agent via our web-based platform and eSign your document.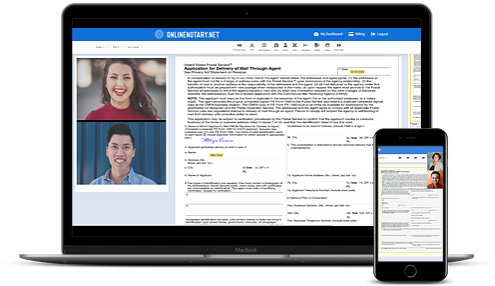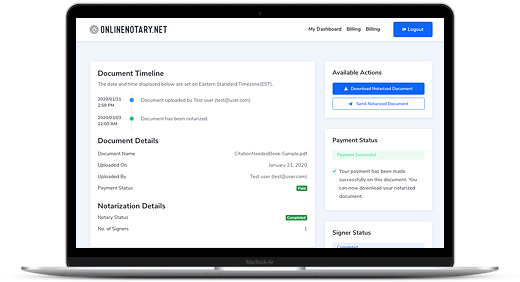 Receive Your Notarized Documents
Once documents are signed by you, our notary agent will apply his/her signature and Notary stamp to your document and email it back to you! You can forward or print and send your documents to your notary recipient.
What our customers say
By doing the right things for our customers, here are some of the most recent reviews left by our loving customers.
The process is fast and really easy. I would definitely go through the process again.
Great service, very helpful and professional. I will use this notary from now on and just want to say thank you.
Quick to respond when noticing I was waiting in line. Experienced and profesional.
It was quick and easy to do. Great quality in visual, sound.
Absolutely Amazing experience! Smoother than Notarize!.
Answered all of my questions. friendly and helpful team. thank you.